| | |
| --- | --- |
| Monday 06 August 2012 | |
Carnival of Madness Tour: Evanescence and Halestorm
Brace yourself for a night of music shrills and thrills as The Carnival of Madness Tour, headlined by Evanescence and Halestorm, will rock your brains out!  Check them out at the Bank of America Pavilion in Boston, MA. on the 6th of August 2012.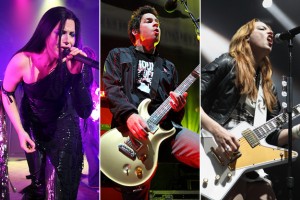 Evanescence ushered a new generation of progressive rock – goth fans with their soaring hit single "Bring Me To Life".  This song, along with the dark, heart-wrenching ballad "My Immortal", were prominent movie tracks from the blockbuster film "Daredevil".  The band's enigmatic lead singer, Amy Lee, was one of the key forces that brought Evanescense to astonishing heights.  They sold 25 million copies of their albums which spawned the hits "Bring Me To Life", "My Immortal", "Going Under","What You Want," "Made Of Stone," "My Heart Is Broken", among many others.
Halestorm is another female-fronted band that stormed their way to the Top Spot at Active Rock radio via the single "Love Bites (So Do I)". Their hard-rock, alternative-metal sound has ruffled a lot of feathers in the male-dominated heavy metal rock scene by  becoming the first female-fronted band to top the Billboard rock chart with the single"Love Bites…".
The Carnival of Madness Tour is also supported by rock-alternative newbie Chevelle.