| | |
| --- | --- |
| Thursday 21 June 2012 | |
Childish Gambino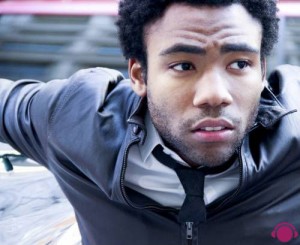 Donald McKinley Glover (born September 25, 1983) is an American actor, writer, comedian, musician and rapper. Glover first came to attention for his work in the sketch group Derrick Comedy and is best known for his role as community college student Troy Barnes on the NBC comedy series Community.
Glover was born on Edwards Air Force Base, California, and raised in Stone Mountain, Georgia. He graduated from New York University with a degree in Dramatic Writing in 2006. Glover is known for his work on the NBC show Community alongside Joel McHale and Chevy Chase. Glover was a writer for The Daily Show in 2005 and the NBC series 30 Rock from 2008 to 2009, where he also had an occasional cameo appearance. He was presented the Writers Guild of America Award award for Best Comedy Series at the February 2009 ceremony for his work on the third season of 30 Rock.
Glover raps as Childish Gambino, a name he found from a Wu-Tang Clan name generator. He released an album entitled Sick Boi on June 5, 2008, in which he thanks himself. On September 17, 2009, Gambino released the album Poindexter. A pair of mixtapes entitled I AM JUST A RAPPER, and I AM JUST A RAPPER 2 were released in close succession in early 2010; Robert Scahill added his producing expertise, helping with the majority of the tracks.
His third album, Culdesac, was set to be released on July 2, 2010, but a couple of last minute additions caused the album to be delayed for a day. The album was made available on July 3. Glover has stated in interviews that on "Sick Boi" and "Poindexter" he felt he had to hide behind gimmicks, such as pink hoodies. But with his subsequent projects, he has touched on more personal subject matter, including family, schoolyard bullying, troubled romantic relationships, suicidal thoughts and alcoholism. He has disowned his 2002 album, The Younger I Get, as the too-raw ramblings of what he calls a "decrepit Drake."