| | |
| --- | --- |
| Sunday 06 August 2017 | |
Dashboard Confessional & The All American Rejects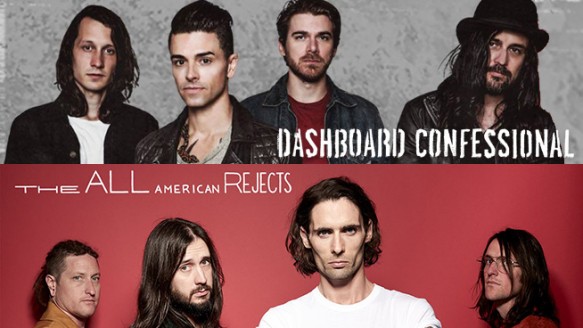 Dashboard Confessional have announced yet another can't-miss summer tour with the All-American Rejects and hitting the Blue Hills Bank Pavilion on Sunday August 6th with support, The Maine!
Three of the best acts produced by the post-2000s emo resurgence are going on tour together for the first time this summer!
Led by Chris Carrabba, Dashboard Confessional is best known for popularizing emo rock with songs such as "Hands Down," "Vindicated," "Screaming Infidelities" and "Don't Wait," all of which were hits on Billboard's alternative songs chart.
Dashboard hasn't released a new album since 2009's "Alter the Ending," but Carrabba told The World-Herald last year that he's hard at work writing new songs.
The members of The Maine have developed a fervent community of loyal fans whose devotion has allowed the band to thrive without the backing of a label. The Maine are living the dream are independent groups aspire to, and this tour is yet another accomplishment in a career that continues to impress even the most devoted believers.
Buy your tickets now for Dashboard Confessional, The All American Rejects and The Maine at the Blue Hills Bank Pavilion.