| | |
| --- | --- |
| Thursday 05 July 2012 | |
Demi Lovato and Hot Chelle Rae
Pop superstar Demi Lovato and pop rock breakthough band Hot Chelle Rae will be on a joint concert tour this summer.  Catch them onstage live at the Bank of America Pavillion in Boston, Massachusetts, on the 5th of July 2012.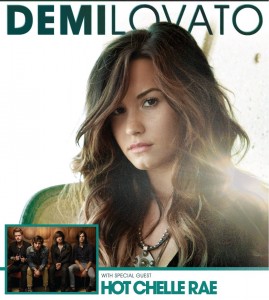 Demi Lovato is best known for her lead role in the Disney Original TV Movie "Camp Rock", aired in 2007, and its sequel "Camp Rock 2: The Final Jam".  From then on, Demi Lovato's acting and music career skyrocketed to dizzying heights.  On television, she landed the title role of the Disney TV series "Sonny With A Chance"; and starred alongside Selena Gomez in another Disney TV Movie "Princess Protection Program".  On the live concert circuit, she toured extensively with The Jonas Brothers; and released  solo studio albums, namely "Don't Forget" in 2008, "Here We Go Again" in 2009, and "Unbroken" in 2011.  She has a string of hit singles to her name which include "This Is Me (featuring Joe Jonas)" from the soundtrack of Camp Rock, "Get Back" (co-written and produced by The Jonas Brothers), "Here We Go Again", "Remember December", and many more.  This year, Demi Lovato will also occupy a seat on the judges' chair at The X-Factor USA Season 2.
Aside from being constantly exposed to the blinding spotlights of showbiz, Demi Lovato has also taken a role that would let her shine a light on others.  She is an inspirational spokesperson for anti-bullying organization PACER.  With her first hand experience of being bullied as a child, Lovato aims to encourage and help build confidence among teenagers who are going through various emotional crises.  She also supports and speaks for other charity, community building, and educational causes spearheaded by the Disney Channel.  With Demi Lovato's inspiring and courageous efforts to overcome her personal and emotional struggles, she became a Contributing Editor to Seventeen Magazine, where she will discuss her personal experiences directed at teenage girls, via a campaign called "Love is Louder than the Pressure to Be Perfect".
Hot Chelle Rae broke into the consciousness of teen pop rock audiences with their single debut "Tonight Tonight".  Cited as "one of the catchiest pop-rock anthems of the summer" by USA Today, this single pushed their 2009 debut album "Lovesick Electric" to multi-platinum status in the US, Australia, and Canada.  A quick follow through to their new found fame is their sophomore album "Whatever", which spawned their current hits "I Like It Like That", "Honestly", and "Radio", featuring concert tour-mate, Demi Lovato.