| | |
| --- | --- |
| Friday 21 September 2012 | |
Dropkick Murphys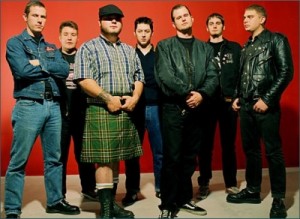 Hailing from Quincy, local boys The Dropkick Murphys are back at the Bank Of America Pavilion which promises to be an incredible gig. Always know to rock the venue, when they play on 21st September 2012 prepare to have your ears blown!
Dropkick Murphys are a celtic punk band formed in Quincy, Massachusetts, United States in 1996. First playing together in the basement of a friend's barbershop, the band made a name for itself because of its relentless touring and for its annual St. Patrick's Day weekend shows in Boston. The band's songs often deal with the working-class environment in which its members grew up.
The band put out a series of EPs and was signed by Rancid frontman Tim Armstrong's label Hellcat Records. In 1998, the Dropkick Murphys released their first full-length album, Do or Die. Lead singer Mike McColgan, who left the band later that year, was replaced by The Bruisers lead singer Al Barr. In 1999, they released their followup album, The Gang's All Here. In 2001, they released their third album, Sing Loud, Sing Proud. The album showcased the group's developing sound and included collaborations with The Pogues' frontman Shane MacGowan and Cock Sparrer's Colin McFaull. It also marked a significant lineup change for the band. Original guitarist Rick Barton was replaced by former The Ducky Boys' guitarists James Lynch and Marc Orrell; instruments were added and played by new members Ryan Foltz and Spicy McHaggis.