| | |
| --- | --- |
| Friday 22 June 2012 | |
Passion Pit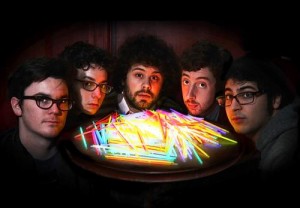 Passion Pit is an electronic band which formed in Cambridge, Massachusetts, United States in 2007. They consist of Michael Angelakos (vocals, keyboards), Ian Hultquist (keyboards, guitar), Ayad Al Adhamy (synth, samples), Jeff Apruzzese (bass, keyboard) and Nate Donmoyer (drums). Passion Pit was a vocabulary word used in a class Mike took in school. It's a slang word for a drive-in movie theatre where kids used to go to make out.
Passion Pit's Michael Angelakos has revealed that the band's new album sounds so "beautiful" that they want to release it "when the buds start to bloom" next year. The Take a Walk Songfacts says the first single, "Take a Walk," finds Michael Angelakos singing of family financial struggles.
Michael played his first show alone sitting with his laptop and a microphone. Later, Ian approached Mike and asked him if he wanted to start a band. After a few line-up changes, Passion Pit was born.
Back once again, Cambridge's local boys Passion Pit are set to rock the Bank Of America Pavilion. Tickets are selling out fast so get them whilst you still can!