| | |
| --- | --- |
| Friday 06 July 2012 | |
Sarah Mclachlan
Sarah Mclachlan takes her Symphony Tour on the road again all over the USA and Canada.  Fans from Boston, MA will surely be delighted as Sarah Mclachlan and her symphony orchestra will fill the night with magical music at the Bank of America Pavillion on the 6th of July 2012.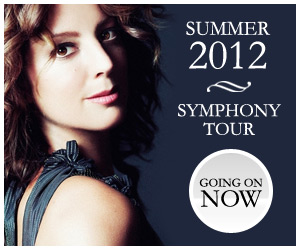 When God created angels, he must've made Sarah Mclachlan an earth angel, tasked to fill the world with her heavenly voice and touch the lives of many with her emotional ballads.  This Canadian singer-songwriter was slowly but surely building her reputation in Canadian music circles since 1988.  Yet her biggest international breakout success came in 1997 with the release of her fourth album "Surfacing".  This is still her best-selling album to date, with sales of more than 11 million copies.  "Surfacing" spawned several hit singles that solidified her reputation and artistic credibility, among them include "Building A Mystery", "Sweet Surrender", "Adia", and "Angel".  That same album also brought home two Grammys for Best Female Pop Vocal Performance (for "Building a Mystery") and Best Pop Instrumental Performance (for "Last Dance"); and four Juno Awards for Best Female Vocalist, Songwriter of the Year (with Pierre Marchand, for "Building a Mystery"), Best Album (for Surfacing) and Single of the Year (for "Building a Mystery").
After her victories from the "Surfacing" album, Sarah Mclachlan took a leave from the limelight.  Her six-year hiatus was broken by the release of a studio album entitled "Afterglow" in 2003.  It contained the singles "Fallen", "Stupid", and "World On Fire".  She went on to release more studio albums –"Wintersong" in 2006; then "Laws of Illusion" in 2010. To date, Sarah Mclachlan has collectively sold over 40 million albums worldwide.
Sarah Mclachlan has received countless awards in her career, but she is highly lauded for her efforts in spearheading and launching the Lilith Fair.  This music festival highlighted female music artists that became responsible for launching the careers of many female music stars known to this day. The Lilith Fair is considered as the most successful all-female music festival in history.