| | |
| --- | --- |
| Saturday 28 July 2012 | |
Summerland: Everclear, Sugar Ray, and Gin Blossoms
Everclear, Sugar Ray, and Gin Blossoms join forces for a nostalgic journey to Summerland.  Summerland is a concert tour featuring  these 90's superbands for a show at the Bank of America Pavilion, Boston MA; on 28th July 2012.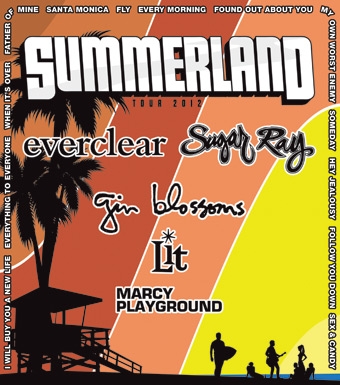 The music of the 90's was clearly defined bands that promulgated grunge, garage rock music — labeled primarily as 'alternative'.  It is largely inspired by rock music, but injects flavors of pop, funk, metal, reggae, hiphop, etc.  This 90s nostalgia concert is definitely a treat for those who grew up in this angst-ridden era.
Everclear was often compared to alternative music forerunner band Nirvana.  Their songs often dealt with issues of angst, drug use, and personal conflicts.  They left their mark with songs like 'Heroin Girl" and "Santa Monica".
Sugar Ray started out with an alternative metal format, yet progressed to a more pop rock sound which became more accessible to the mainstream market.  The result?  They spawned radio mega hit singles and are noted for their catchy tunes like "Every Morning", "Someday", and "When It's Over".
Gin Blossoms is identified with their signature jangly-pop sound.  The broke out with the single "Hey Jealousy", and was followed by hit after hit after hit.  Their string of successful singles include "Found Out About You", "Follow You Down", and "'Til I Hear It From You," which was a featured song from movie cult-classic "Empire Records.