| | |
| --- | --- |
| Monday 02 July 2012 | |
Tenacious D
Tenacious D is back on the road, telling their tales of rock mischief and mayhem, in support of their recent album release "Rize of The Fenix".   Their touring schedule includes a stopover in Boston Massachusetts, at the Bank of America Pavillon on 2nd July 2012.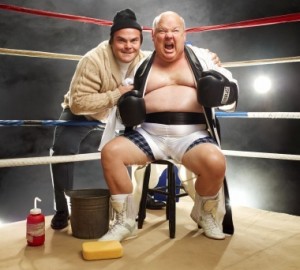 Tenacious D is an American satirical rock duo fronted by actors / musicians Jack Black and Kyle Glass.  They'd like to be referred to and introduced as "The Greatest Band in the world. Period."  With their ongoing nationwide tour, Jack Black describes this gig as only comparable to a Beatles reunion: "I guess if the (surviving) Beatles were able to resuscitate the dead ones and go on a massive tour, that's what the Tenacious D tour is going to be like." He then added: "So, if you missed the Beatles the first time, you should probably check our show out."  Tenacious D's music is often branded as 'mock rock'.  Jack Black's theatrical rock vocal antics and Glass' acoustic guitar showmanship is like watching a rock opera poking fun at heavy metal rock cliches.
Tenacious D first gained rock n' roll notoriety in 1999 via their self-titled, now defunct HBO TV series.  In 2001, they released their self-titled debut album which spawned the hit singles 'Tribute" and "The Metal".  The duo usually performs acoustic, yet this album is backed by a full band with all-star musicians, no less — consisting of Dave Grohl (of The Foo Fighters) on drums and guitar, Page McConnel (of Phish) on keyboards, Warren Fitzgerald (of The Vandals) on guitar, and Steven Shane McDonald (of Redd Kross) on bass.  Majority of the songs from the album were first heard and performed on their TV series.  Despite mixed reviews from critics, the album sold platinum in the US.
In 2006, the band embarked on a film project and found themselves in front of the cameras and at the helm of the movie production. They also started recording a soundtrack for this movie,"The Pick of Destiny", which then became their second studio album.  The soundtrack featured John Konesky and John Spiker from Trainwreck on electric guitar and bass respectively, plus Dave Grohl again playing drums, and further lent his vocals to the track"Beelzeboss (The Final Showdown)" as well as acting in the film, as Satan.  Though the film bombed at the box-office, Black saw signs of optimism from its DVD sales, which developed into a cult audience following.
Tenacious D's music are also prominently featured on guitar-driven computer games like Guitar Hero III ("The Metal") and Rock Band 2 ("Master Exploder").