| | |
| --- | --- |
| Wednesday 11 July 2012 | |
The B-52s and Squeeze
The B-52s and Squeeze are headed on the highway for their much anticipated joint summer tour! Block-off July 11, 2012 on your calendars and head to Boston, MA. for this back-to-back summer dance concert party happening at the Bank of America Pavilion.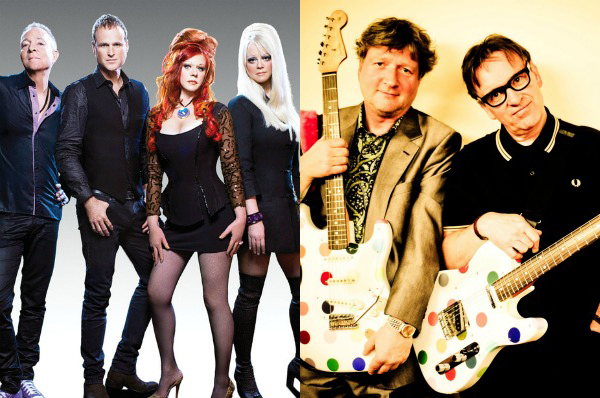 There seems to be no signs of slowing down for the B-52s, so you better catch up with them as they take their summer dance party all over America.  This tour coincides with the B-52s 35th year anniversary in the music biz.  Yes, it's been 35 years of fun and partying to the music of this guys and gals band, touted as the 'world's greatest party band'.  Their music is rooted on the New Wave generation of the 80s, yet their music and showmanship is an odd and goofy amalgam of 60s rock 'n roll, punk rock, and pop rock.  They're still going strong with over 20 million albums sold, and countless and continuous touring in several parts of the world.  The B-52s are well-loved for their timeless party anthems — "Private Idaho", "Rock Lobster", "Planet Claire", "Roam", "Love Shack", and many more.  Whenever one of these classic gems start spinning, that's the cue to get the party started!
Co-headlining with the B-52s summer tour is Squeeze, a British band that rose to prominence in the UK during the 80s New Wave era.  They are known in the UK for their hit songs "Cool for Cats", "Up the Junction", "Tempted", "Labelled With Love", "Black Coffee In Bed", "Pulling Mussels (From the Shell)" and "Hourglass".  In the mid-90s, Squeeze was re-introduced to a new generation of fans who saw the film "Reality Bites", which prominently feature the song "Tempted" in one of the memorable scenes in the movie.